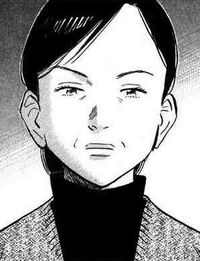 Yukiji Setoguchi, is one of Kenji's best friends. She joined Kenji's Youth Group, and later went into Kenji's Group. She had a crush on Kenji, but never confessed. After Bloody New Year's Eve, she acted as Kanna's guardian. She is a strong person, both physical (the only one able to take Yanbo and Mabo) and mentally.
In Yukiji's first appearance, she was talking to Mrs. Nakatsugawa, a lawyer who was independently investigating Friend. At that point she remembered about the Friend's symbol, but due to too many drinks she sicked away and forgot about the matter for a while.
Ad blocker interference detected!
Wikia is a free-to-use site that makes money from advertising. We have a modified experience for viewers using ad blockers

Wikia is not accessible if you've made further modifications. Remove the custom ad blocker rule(s) and the page will load as expected.